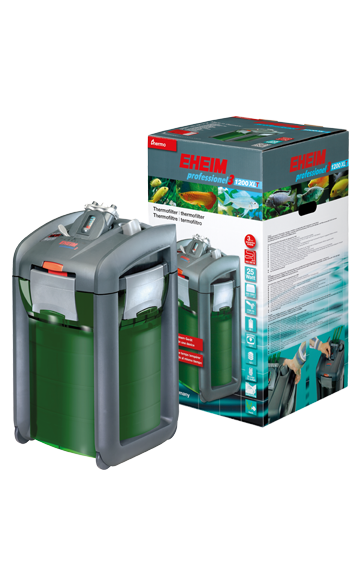 "EHEIM professionel 3 1200XLT"
With our EHEIM professionel 3 we offer you the jewel (highest standard) of filter technology*. 
EHEIM professional 3 represents high quality, strong performance, excellent power efficiency, smooth operation and lots of additional benefits. Self priming, a large prefilter and safety hose adapters are just some of the advantage.
*The professional 3 1200XL model is also available as a thermo filter with an integrated heater – 1200XLT
Advantages of the EHEIM professionel 3 filter
Top quality external filter for aquariums up to 1200 litres
The first filter with a triple hose adapter (2x suction side, 1x pressure side) for perfect water circulation in large aquariums
Flow indicator – indicates when the filter should be cleaned
Transport wheels enable the filter to be moved
Pre-filter tray – for "drip-free" transport of the prefilter during cleaning
Square canister for large filter volume and high stability
High flow rate with very low energy consumption
Adjustable pump output
Whisper-quiet operation and extremely long service life thanks to high-performance ceramics in the pump drive
Suction aid for fast filling of the filter canister
Safety hose adapter can only be released when the valves are closed
Large prefilter retains coarse dirt and extends the cleaning intervals of the biological filter material; easy to remove and clean
Top class filter technology with several advantages
The EHEIM professional 3 is the highest level of our professional external filter generations. With a square base for stability, the filter has a large filter volume but fits into corners and needs less space.
Suction aid
No more complicated suction methods! With the suction aid, the filter canis-ter is filled and immediately ready to start.
Safety Hose Adapter
Hose adapter with 3 hoses. For safety reasons, the hose adapter can only be released when the valves are closed.
Prefilter
A large prefilter, positioned in the top of the canister, retains coarse dirt and can be cleaned quickly between maintenance intervals. This protects the biological filter material in the other 3 filter baskets, providing a much longer service life.
Filter baskets
The filter baskets can be filled individually and are easily removed for cleaning.
Quiet operation
EHEIM High Performance Ceramics, i.e. components made of high-performance ceramics (impellor axles and bearings), mean exceptionally quiet operation, high load capacity and extremely long service life.
Ready for connection
All essential accessories are included: suction pipe, nozzle pipe, outlet bend, EHEIM quality hose, pre-filter tray and installation accessories.
The complete filter media set 2520800 is available separate